The 3nd annual conference and exhibition Dаta Center-2018: models, services, infrastructure
The current situation makes the public and enterprise customers to think seriously about reducing CAPEX costs, which further stimulates the development of IT outsourcing worldwide. Very important that government in Kazakhstan becomes to initiate changes in IT services providing models and demonstrates at their own example the most efficient direction of IT industry development.
New approaches to the implementation of IT services dictate new requirements for vendors, integrators and service providers. In a situation of IT budgets compression customers are looking for solutions to optimize the cost of infrastructure and software. The processes are going in parallel: computing resources centralization, the concentration of IT services and expertise in companies which own engineering and IT infrastructure, and having the ability to provide its customers with reliable, quickly deployable and scalable service.
The role of information technology in business and public administration is increasing every year. Further development of the IT industry makes to change the traditional model of interaction between all participants. But data centers become the most important critical centers of all information systems, whose high reliability and stability determines the economic safe operation.
The key objective of the forum, held for more than 12 years in Russia (www.dcforum.ru), and now in the Republic of Kazakhstan, is the exchange of knowledge and discussion the industry and global trends that have a direct impact on the development of mission-critical enterprise information infrastructures.
At the conference "Data Center 2018: Models, Services, Infrastructure" will be considered the current market situation and forecasts, models of IT services implementation, all the main aspects of data centers building, operation, management:
Services and models of their implementation

New business models and partnerships
Public private partnership
Cloud Services (IaaS, PaaS, Saas, and others.)
Traditional services (colo and others.)
Outsourcing

Open Compute
Modular data centers
SDN, NFV, network infrastructure
Big Data
DCSO
New engineering solutions

Management

Increasing reliability and efficiency
Lower TCO
Commissioning, QA
Standards and Certification
Building management and maintenance
Modernization

Systems and Technology

Power supply systems
Climatic equipment
Control and monitoring systems (DCIM)
Virtualization and consolidation
Servers, Storage
Cable Systems
Fire and Security
Information Security
Only through dialogue and the best practices exchange between all the participants of the data center market - the owners, operators, providers, vendors and designers there is an opportunity of further developing and solvation specific practical problems in different stages of the data center life cycle.
Due to participation of the Kazakh, Russian and foreign experts, representatives of government agencies and major service providers, the world's leading vendors and developers at the conference are appearing unique opportunities for dialogue, exchange of experience and searching cooperation new formats.
Audience: managers and owners of enterprise, commercial and government data centers, investors, CIOs and heads of IT departments of state and commercial companies, top managers of leading vendors and domestic companies, operation directors, IT and engineering specialists.
Amount of participants: 300 + delegates.
The results of the conference in 2017: more than 250 participants, 19 reports 11 sponsor and partner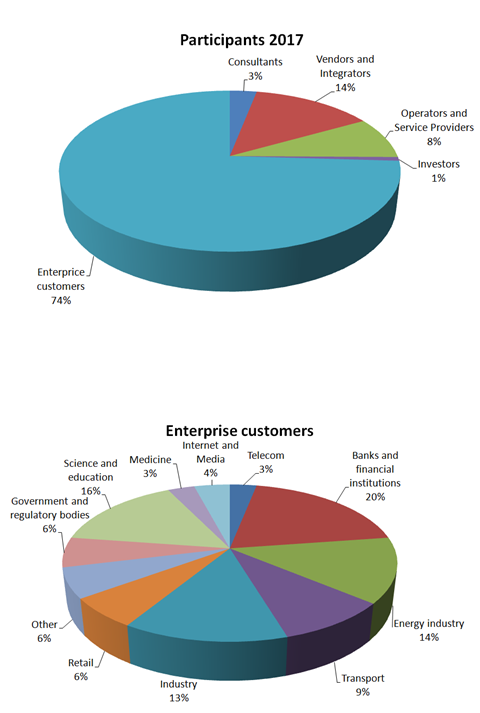 Conference participants:
Air Astana, Al-Farabi Kazakh National University, ALMA-TV, Almaty Parking, Almaty thermal networks, Almaty university of power engineering and communication, Altyn Bank, Amangeldinsky GPP LLP, Asia Agro Food, Asia Waters, AsiaCredit Bank, Asian Gas conduit, ATFBank, AUKU Internet service, Banking service bureau in case of NBRK, Beeline (Kar-Tel LLP), BI Group, Borusan Makina Kazakhstan, Branch of the Dechert Kazakhstan Limited company, Buzaci Operating Ltd., Capital Bank Kazakhstan, CARAVAN.kz media portal, Caspian Beverage Holding, Central Asian Elektroenergitichesky Corporation, Central Asian sugar corporation, Central office, Centrcredit bank, Citibank Kazakhstan, Dentos-Kazakhstan, Eastcomtrans (Istkomtrans), Eurasian Bank, Eurasian Foods Corporation, Foodmaster company, Gas conduit Beyneu-Shymkent, Gazprom Neft Kazakhstan, Government of the Republic of Kazakhstan, Green Bus company, Institute of space technique and technologies, International airport of Almaty, Interoil, Johnson & Johnson Kazakhstan, JSC DeltaBank, JSC Imstalkon, JSC Intergas Central Asia,JSC Kazpochta, JSC Tartyp, JSC Tau-Ken Samruk, Kapital.kz, Kaspi Bank, Kaz institute of NTsPI Energoprom, Kazaeronavigation, Kazakh Institute of Oil Transportation of gas, Kazakh national research technical university of K.I. Satpayev, Kazakh state women's pedagogical university, Kazakhstan Centre of Interbank Calculations ofNational Bank of the Republic of Kazakhstan, Kazakhstan-British Technical University, Kazakhstan-German University, Kazpochta, Kaztransgaz, KIMEP, KMG Global Solutions, KZ alphabank, Lokomotiv LLP 2030, Magnum Cash&Carry, Medservice Plus, National Bank of Kazakhstan, National bank of Kazakhstan, National information technologies (JSC NIT), NPP Interrin, Ordamed, Planet of the Electronics, Republican Interuniversity Electronic Library, Sberbank (KZ), SCAT airline, Skiff Trade, Southern Kazakhstan Economical and Technological College, Sredazenergomontazh trust, State credit bureau (KZ), Stynergy LLP, Tele2 (KZ), Tengizchevroil, Tengizshevroil, TOO Shopping Mall "Megapolis-Kazakhstan", TS Development, Tsesna Garant insurance company, Tsesnabank, Universal Logistics, VTB bank (KZ), Well Trade, Zhersu, Zhilstroysberbank of Kazakhstan and other.
Audience I-st Annual conference and exhibition Dаta Center-2016: models, services, infrastructurу (26.05.2016, Kazakhstan, Astana)
If you have any questions on sponsor and delegate participation please contact commercial department of IKS-MEDIA by tel.: +7 (495) 229-4978, 785-14-90, 502-5080 or by fax +7 (495) 229-4976 or by email: dim@iksmedia.ru
About Organizer:
More than 20 years IKS-MEDIA company is a publisher of the main branch magazine IKS and information portal www.iksmedia.ru. In 2004 international consulting agency iKS-Consulting was created, it provides services of management consulting, IT, telecom and media market research. IKS-MEDIA is an organizer of the key and the largest forums and conferences in Russia: